Overview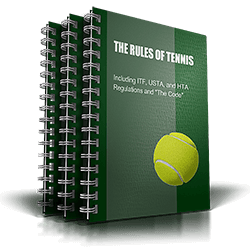 For tennis in Greater Houston, there is one important factor to keep in mind: the rules of tennis that we play under represent a hierarchy of different sets of regulations. For the most part, the International Tennis Federation (ITF) adminsters and regulates the game through over 200 affiliated national associations. As one of those, the United States Tennis Association (USTA) amends or augments the ITF regulations as required to fit the offerings and programs in this country. For example, adult league play in the U.S. is extensive and requires specific rules to govern its operation that the ITF does not address. Some USTA regulations are fixed, while others are allowed to be changed to meet the specific needs in one of its 16 Sections. The USTA Texas Section publishes its own sets of procedures and guidelines.
The Houston Tennis Association (HTA) is one of more than 1,000 USTA Community Tennis Associations across the United States. Local scheduling and administration again necessitate some modification, clarification, and augmentation of USTA and USTA Texas Section regulations to create a best-fit for on-the-ground administration of leagues, tournaments, junior programs, and tennis events. Also of note is that the HTA is an independent 501(c)3 corporation and, as such, provides some of its own offerings that are directly affiliated with neither the USTA nor World Team Tennis (WTT).
The guiding principle for tennis players and captains is this: If there is a regulation published by the HTA, that regulation takes precedence. If the HTA does not specifically address a given situation, look first to the USTA Texas Section and, if not referenced there, look to the USTA national regulations. For WTT matters, if the HTA does not address the issue, go directly to the WTT's primary regulations.
The listings below are grouped by governing organization and, while we have attempted to present everything pertinent to playing tennis in Houston, the list can't be considered comprehensive. For in-depth exploration, please avail yourself of the considerable resources offered at the USTA national Website, and that of the USTA Texas Section.