Fun—Friendship—Tennis
There's no better sport than tennis for making friends, staying fit and having fun! Whether you've played before or are just picking up the game, USTA Tennis On Campus (TOC) is a way for you to start playing or stay in the game. All across the country, college students are enjoying the excitement of tennis through co-ed team play that offers competition, new friendships and fun. Through TOC students can maintain active and healthy lifestyles, enjoy team camaraderie and stay connected to tennis—without the demands of a varsity program. A TOC club team can be formed on any campus, usually within the school's intramural sports program. The co-ed team format is designed to accommodate all levels of play, and the top teams can compete for regional and national championships.
Player Eligibility
USTA membership is not required to play in any TOC programs. Beginners and experienced players are welcome. Some former varsity players and part-time students may not be eligible. Check the TOC Eligibility Rules & Guidelines for background and information.
See if Your School has a TOC Team
TOC is currently offered on over 600 college campuses, with more than 35,000 players. To see if your school has an active TOC team, check out the USTA's College Club Tennis Teams page and get the contact information you need. Then get in touch with a club contact.
Texas is well represented, including Houston Baptist University, Houston Community College, Lone Star College, Rice University, University of Houston, University of St. Thomas, and many others.
TOC Sponsors and Support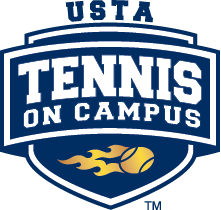 The United States Tennis Association (USTA), Intercollegiate Tennis Association (ITA), National Intramural-Recreational Sports Association (NIRSA), and World Team Tennis (WTT) have partnered to form Tennis on Campus. They offer supporting resources, such as marketing kits, start-up funding, and promotional goods. The USTA Texas Section can provide a College Campus Coordinator to help develop a program at your school. And, you can find information, program updates, and financial support for your program at www.nirsa.org.
The TOC Season
Intercollegiate TOC competition in Texas starts in September and ends before Thanksgiving. The USTA Texas Section TOC Sectional event is played in late February or early March, after which the top teams get a chance to travel to the USTA National TOC Championships. Each year, in the USTA's Tennis On Campus National Championships, 64 teams compete for the title. The draw features the finest college club teams in the United States.
Using WTT Rules Creates Excitement
The World Team Tennis format is used for all matches, along with The ITF's Rules of Tennis and USTA Interpretations located in the USTA's "Friend at Court." Some special WTT rules make the TOC matches more competitive, exciting and fun:
Each Team has a coach and four players; two men and two women. Players are permitted to play in three sets per match. A match consists of five or six no-ad sets and includes one set each of men's and women's singles and doubles, and one or two sets of mixed doubles. WTT scoring is no-ad. The game is won by the first team to win four points (1,2,3, game). When the game score is deuce (3-3) the receiving team chooses which player receives the serve. In mixed doubles, the serve is gender to gender at game point. Each set is won by the first team to reach five games. At 4-4, a nine-point tiebreaker is played. Lets are played and either partner may return the let serve. Each game counts as one point in the team's cumulative match score. If the trailing team wins the final set, the match is sent into extended play and continues until the leading team wins one more game or the trailing team ties the match. If the score becomes tied, the match is decided by a 13-point supertiebreak. A coach may substitute one player, per set, per gender at the end of a point. The player who leaves may not return to the match in the same set.
Get Information
For more information on Texas TOC programs, visit the USTA Texas Section website.
If you are attending or planning to attend school in another state, check the TOC College Club Tennis Teams to see if your school has a TOC program, and get in the game