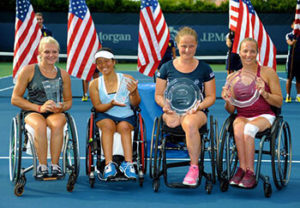 Did you know the only difference between wheelchair and able-bodied tennis is that wheelchair players are allowed two bounces? Did you also know there are USTA tournaments called "Run/Rolls," where chair and able bodied players partner up for doubles tournaments?
Houston has proven to be a hot spot for wheelchair tennis since 2009. With the combined effort of the Houston Parks and Recreation Department, West Gray Adaptive Center, and HTA volunteer coaches, wheelchair players have access to free racquets, free use of two newly resurfaced courts, loaner sport chairs and free coaching.
The West Gray Adaptive Center, owned by the Houston Parks and Recreation Department, comes alive on Tuesday and Friday nights as wheelchair players arrive for free weekly tennis clinics organized by HTA volunteers. These clinics have introduced tennis to over 100 chair players ranging from 8 years old to 60 years old. Many of the attendees have never played before or were able-bodied players before becoming wheelchair bound.
In addition to the free weekly clinics, wheelchair tennis demonstrations have been in the spotlight at both the Abilities Expoand Metal and Muscle conferences at NRG Stadium.
Today, Houston has a core group of five to seven players that travel throughout Texas and participate in national wheelchair tournaments.
If you'd like to get involved with wheelchair tennis as a player or a coach, it's easy:
First, players should join the open Facebook group, which keeps all wheelchair tennis players informed regarding practice times, weather updates and upcoming tournaments. It's also a great place to get to know the wheelchair tennis community in Houston.
You do not need any tennis experience. If you do not have a sport chair, don't worry. Simply give advance notice, and you'll be provided with a loaner. Best of all, the Tuesday clinic is free!
If you are interested in coaching wheelchair tennis, come join the group on Tuesday night at the West Gray Adaptive Center. You do not need a certification in wheelchair tennis to coach.
For more information, please contact the Houston Tennis Association via email, or at (281) 590-8313.
Free Wheelchair Tennis Clinics
When: Tuesdays & Fridays*
Time: 7:30 p.m. to 9:00 p.m.
Where: West Gray Adaptive Center
Address: 1475 West Gray Street, Houston, TX 77019
*Volunteer coaches attend on Tuesday evenings, while Friday evenings is an open hit session (without a coach) for all wheelchair players.