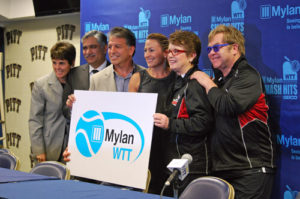 Since 1985, more than 650,000 tennis players of all ages and abilities have participated in World Team Tennis Corporate and Recreational leagues. This inclusive, innovative, and fun league is open to corporate, club, and recreational teams. Any player may play on a corporate team. Corporate and club sponsorships are encouraged and teams develop their own unique identities.
The format features coed teams competing in six sets: men's and women's singles, men's and women's doubles, and mixed doubles. The unique WTT format includes no-ad scoring, substitutions, super-tiebreakers and coaching.
Players have an opportunity to advance to Mylan WTT Qualifiers and the national championships. They also receive a monthly newsletter and discounts on tickets for professional tournaments.
Teams of up to 10 players (players must be 18 or older) compete in NTRP 3.0, 3.5, 4.0, 4.5 and Open divisions. Teams furnish their own balls and play at any facility they choose. The captain's contact each other to decide what day and time they will play. Play begins in January, with one match per month for five to six months. The winning teams may advance to Regional Qualifier tournaments from June to September, and then to the finals at the Indian Wells Tennis Garden—home of the BNP Paribas Open—in California in November.